SME WG meeting 26 June 2023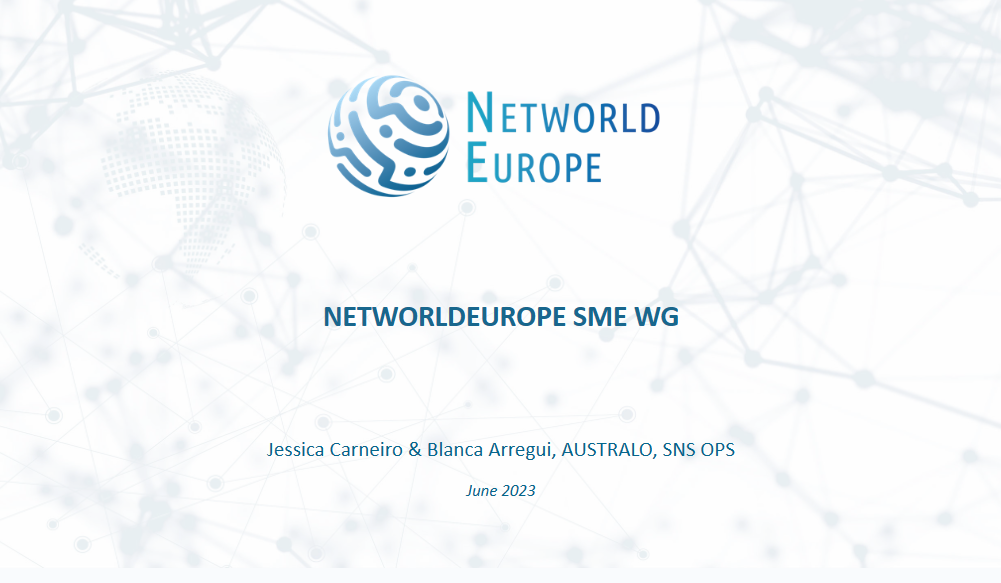 NetworldEurope SME WG Gathers to Foster Collaboration and Innovation
On the 26th of June 2023, the NetworldEurope SME WG met for a highly insightful meeting. Conducted by Jessica Carneiro, Project Manager at AUSTRALO and Chair of the NetworldEurope SME WG, the meeting aimed to bring several opportunities targeting SMEs, showcase the progress achieved thus far and outline the forthcoming steps.
The meeting provided a platform for many initiatives and organisations to present their remarkable work to the community and provide first-hand information about different opportunities aimed at SMEs, mainly through open calls.
Prominent participants included the European projects IMAGINE B5G, represented by Ozgü Alay and Ana Pereira; Target X, represented by Aneta Galazta; and TrialsNet and FIDAL, represented by Maurizio Cecchi. The projects guided the SME WG through their open calls, emphasising the specific value for the WG members and responding to all the questions from the audience. There is a great expectancy regarding SMEs' participation in these calls.
Moreover, Pierres-Yves Danet spoke about the latest developments of ScoDIHNet, highlighting the tool for assessing replicability and how SMEs can use it. Likewise, the SME WG member Hellenic Drones, represented by Afroditi Sakellaropoulou, introduced us to their high-level facilities and services, extending an invitation to host an event for the SME WG.
The NetwoldEurope SME WG offers European small and medium-sized enterprises (SMEs) an opportunity to share their insights and perspectives on ongoing efforts, providing a valuable platform for collaboration.
Overall, the NetworldEurope WG meeting on the 26th of June 2023 proved to be a highly engaging event. The discussions held during the meeting, coupled with the informative presentations made by the participating organisations, presented an optimistic outlook for future collaboration, serving as a pivotal moment for the NetworldEurope SME community.
Watch the meeting at this link!