CCSA & NetworldEurope Cooperation Meeting, 18 October 2021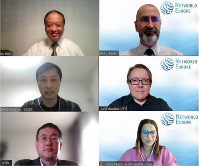 On October 18th, 2021, CCSA and NetworldEurope held a joint meeting. It was the first time that Mr. Wen Ku Secretary General of CCSA and Professor Rui Luis Aguiar Steering Board Chair of NetworldEurope formally introduced each other, reviewed cooperation objectives and plans.
Secretary General WEN Ku pointed out that "NetworldEurope is an important partner of CCSA. Since CCSA joined NetworldEurope in 2020, the two organizations have maintained a close cooperative relationship. The work of CCSA and NetworldEurope is complementary to each other, and enhanced collaboration contributes to global ICT technology, standards, and industry consistency".
Prof. Rui Luis Aguiar said: "NetworldEurope values the close cooperation with CCSA. NetworldEurope is a globally open platform. CCSA wide experience and knowledge on  future requirements are very helpful for NetworldEurope, and closer cooperation opens the door to further information exchange."
Both CCSA and NetworldEurope agreed for closer cooperation on ICT strategies and vertical industry requirements in 2022, organizing joint events and enhanced information sharing.