PUBLIC CONSULTATION OF HORIZON 2020 PPP PROPOSAL ON "HORIZON 2020 ADVANCED 5G NETWORK INFRASTRUCTURE FOR FUTURE INTERNET PPP"
The Vice-President of the EU Commission Ms. Neelie Kroes invited industry at the Mobile World Congress 2013 in Barcelona on 26 February 2013 to join a new Public Private Partnership (PPP) on
"Horizon 2020 Advanced 5G Network Infrastructure for Future Internet PPP"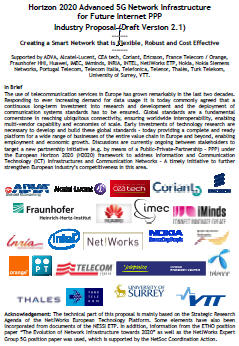 A group of industry companies has prepared a draft PPP proposal following a template provided by the EU Commission. It addresses the overall long-term vision of the PPP, the strategic and specific objectives of the PPP and the research and innovation strategy, in particular the scope of R&D and innovation challenges.
Public Consultation
An important part of the overall evaluation process of PPP proposals is a public consultation with a wider community on the intended technical content of the proposal. As this PPP should have its roots in the Net!Works ETP the consultation was done with the Net!Works community.
This consultation was opened on 10 May and has closed on 27 May 2013. The processing of comments has been organised by the Chairman of the Net!Works expert Group, Prof Rahim Tafazolli, University of Surrey. Based on the comments a revised version of the proposal has been prepared and was submitted to Neelie Kroes on 20 June 2013.